Howdy Maple Creek Communities in Bloomers! You can visit this page for all Communities in Bloom updates or
like us on Facebook
.
"Best Tidy Up! Company's a 'Comin'!"
Maple Creek Communities in Bloom is participating in the CiB Circle of Excellance for 2018! Judges will be arriving in Maple Creek on July 20, 2018. The judges will tour Maple Creek on Saturday, July 21, 2018. They will be looking at businesses, residences, chruches, schools and halls. Let's put our best foot forward: Eradicate Weeds, Pick Garbage, Wash Windows and Sweep Sidewalks.
Download Maple Creek's Community Profile for 2018
CiB Yard of the Week – 2018
Week 5 - 514 Claustre Avenue
The front yard of the home has pretty flowers & shrubs adn teh backyard with its green grass and flower pots makes a pretty setting. Alley is very neat & weed free. This is a very neat and cared for home and yard, and definitely needs recognition.
Week 4 – 309 Maple Street
This big yard is neat & well maintained. The use of raised planters providse thr family with fresh vegetables. The bright and colourful pots on the concrete patio providea nice place to enjoy & relax.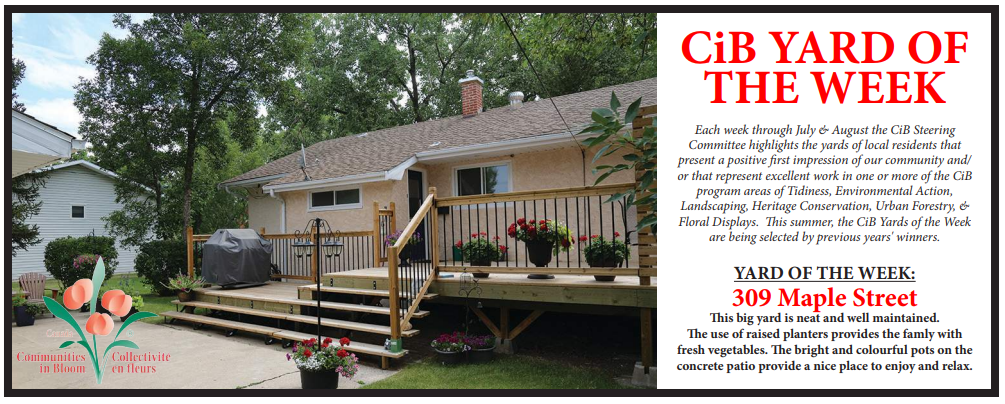 Week 3 – #6, 2nd Avenue
This yard continues to be updated more each year! It is always kept neat and tidy. As well, more perennials and curb appeal are added to it each year. It is an enjoyable view!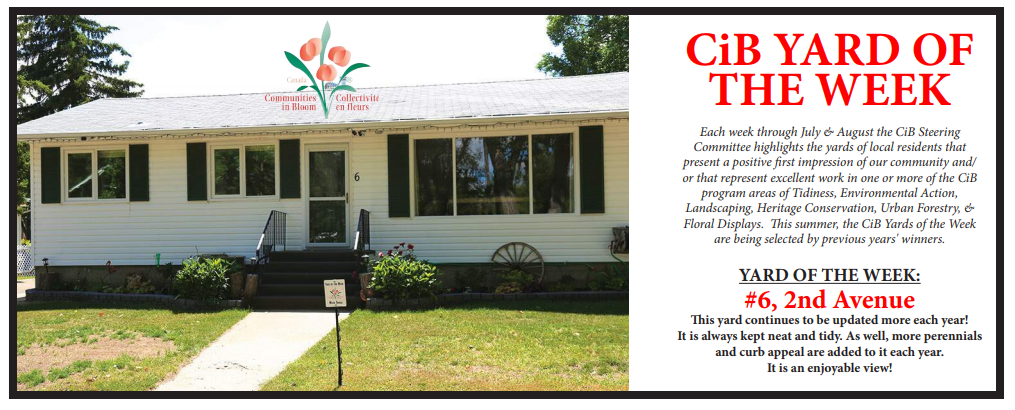 Week 2 – #1, 2nd Avenue West
This yard has very beautiful colours, very neat and clean. It is very appealing to look at when driving by.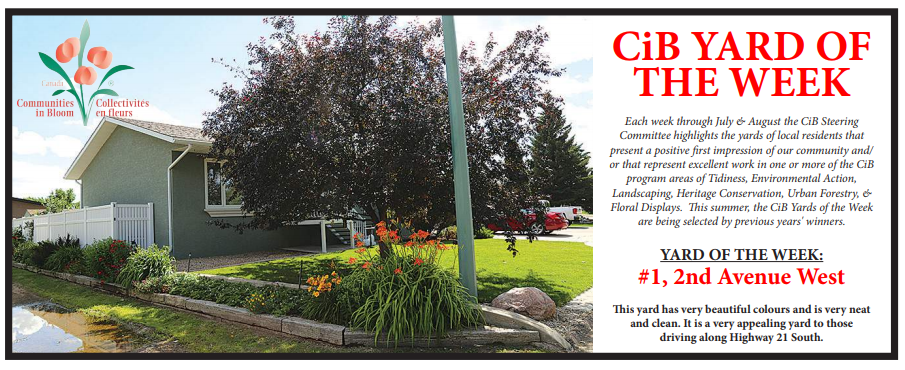 Week 1 – 118 Dixon Avenue
We have chosen the residence of 118 Dixon Avenue. This yard is always tidy and well groomed. The trees of varying sizes and shades of colour make this yard restful and attractive.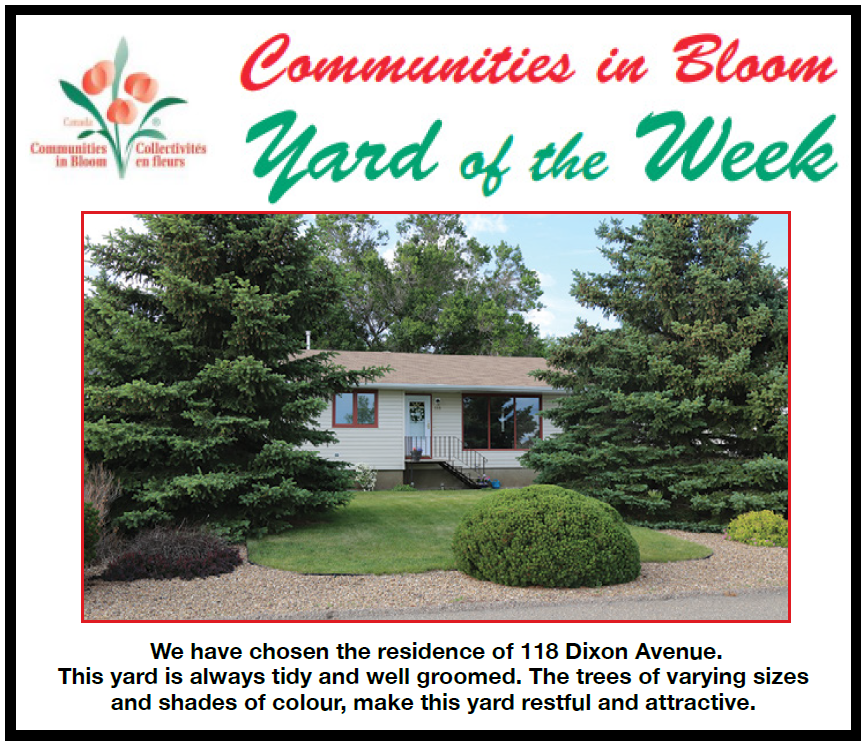 Maple Creek Wins Bronze 5 of 5 Blooms in 2017 National Competition
The Maple Creek Communities in Bloom won 5 blooms - Bronze rating in the 2017 CiB National Competition with special recognition for "Innovative Landfill Site"!! Thank you everyone who worked so hard this past year to make Maple Creek a more appealing place to visit, to live and to do business!!
---
CiB Business of the Month – 2017
September – Menkos
"We have chosen Menkos as the business of the month. They have a very nice floral display outside their front entrance. The long entrance to their business has been landscaped with black landscape rock and has a very neat and tidy appearance. "
August – Cutting Edge
"We chose Cutting Edge for many reasons....The business is very appealing when you drive by. The front of the business (streetscape) is neat and tidy, the windows & front door are always sparkling shiny, there are beautiful flower pots, a sidewalk to the front door, well-manicured green grassa and landscape ties, and a catchy business sign on the front of the building....all add to the appeal of the business. The yard and parking area is also well taken care of and organized, vehicles are parked orderly, garbage is contained, the yard overall is very well maintained. "

July – Post Office
"We chose to select the Maple Creek Canada Post Office as the Business of the Month for the Community in Bloom initiative. The Post Office has undergone vast streetscape appeal improvements over the past couple years and continue to beautify their grounds. Along with the blooming floral display out front, picnic benches and a wood-constructed gazebo along the north side, repair work to the staircase completed, and the heritage of the building being maintained, the Post Office has become an attractive spot in the downtown heritage district. This award is well-deserved, good work!"
June – Maple Creek Landfill
"We the staff at B & A Petroleum have chosen the Maple Creek Landfill for "Business of the Month". We based our decision on all the great improvements Lynn and his staff have done to the landfill. The flowers, trees, bird houses, garden pots, golf course and the lights have all been a tremendous addition to ones first impression of our local landfill. The landfill is neat with organized structure and along with all of these extra additions deserves recognition by our local community. Hats off to all the hard work that has been put into making our local landfill and much more appealing place."
---