Howdy Maple Creek Communities in Bloomers! You can visit this page for all Communities in Bloom updates or
like us on Facebook
.
CiB Yard of the Week – 2018
Week 9 - 205 Lonsdale Street
This yard was chosen because it is neat, tidy and the colour contrast is striking, along with the water saving concept of the yard.
Week 8 - 107 Lonsdale Street
Everything in this yard is well maintained. Grass mowed, trees well staked, colourful flower beds. Fence well maintained. Back yard is neat and tidy with everything in order.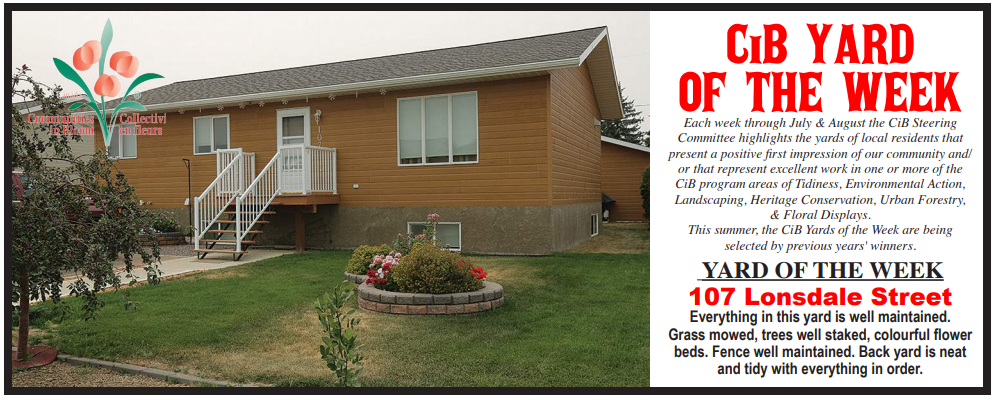 Week 7 - 415 5th Avenue
This yard is always neat and well kept, both in the front and back yards.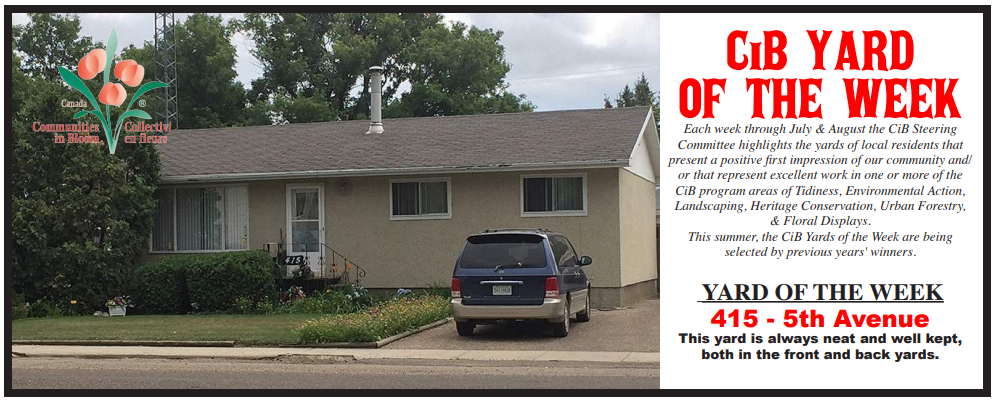 Week 6 - 422 Sidney Street
A nice green lawn that is very well maintained, not a blade of grass out of place. Gorgeous pops of yellow, purple and pink flowers planted in well kept and pretty planters.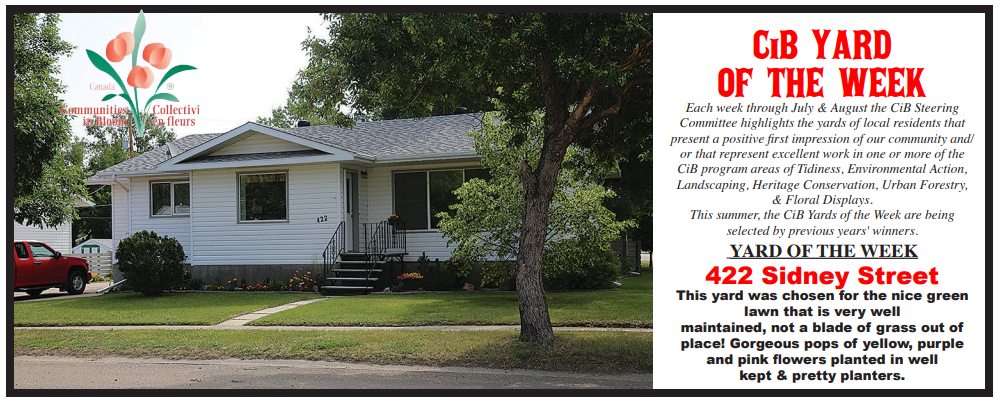 Week 5 - 514 Claustre Avenue
The front yard of the home has pretty flowers & shrubs and the backyard with its green grass and flower pots makes a pretty setting. Alley is very neat & weed free. This is a very neat and cared for home and yard, and definitely needs recognition.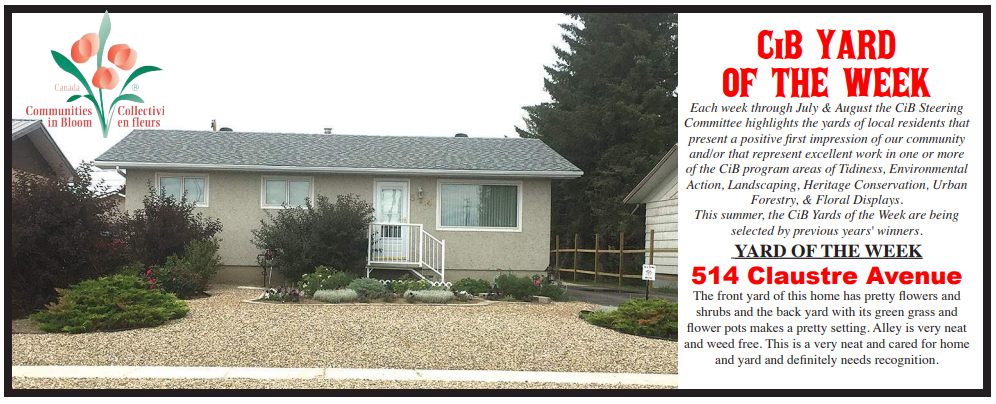 Week 4 – 309 Maple Street
This big yard is neat & well maintained. The use of raised planters providse thr family with fresh vegetables. The bright and colourful pots on the concrete patio providea nice place to enjoy & relax.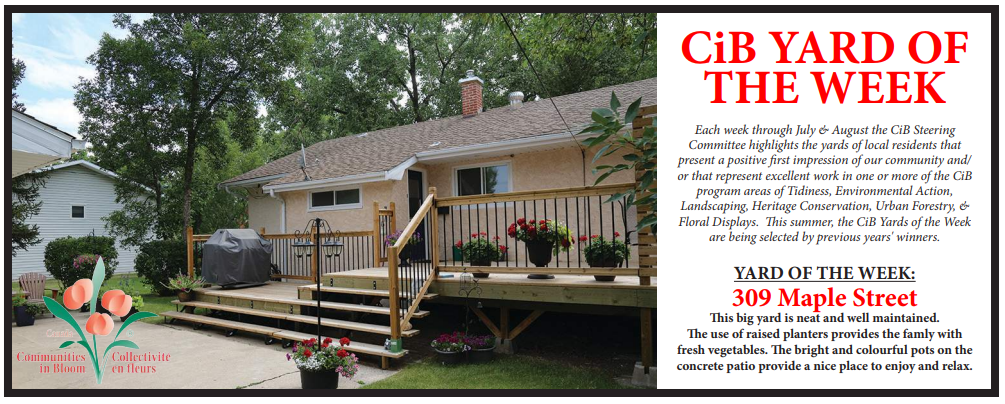 Week 3 – #6, 2nd Avenue
This yard continues to be updated more each year! It is always kept neat and tidy. As well, more perennials and curb appeal are added to it each year. It is an enjoyable view!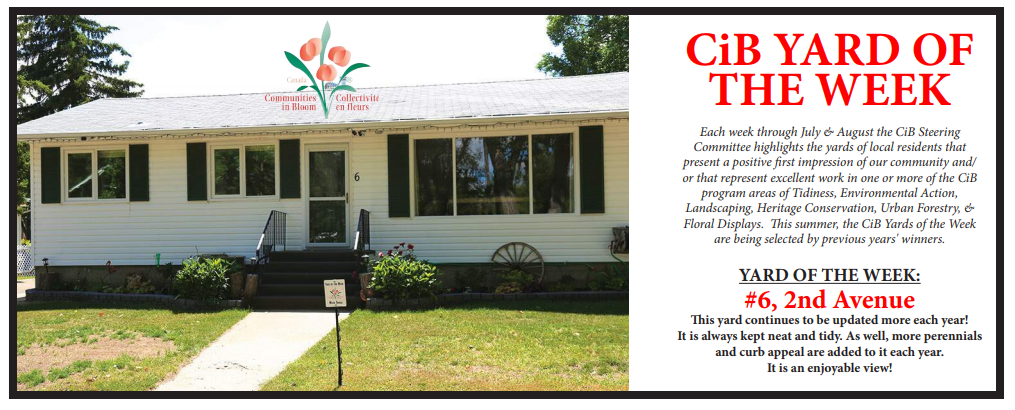 Week 2 – #1, 2nd Avenue West
This yard has very beautiful colours, very neat and clean. It is very appealing to look at when driving by.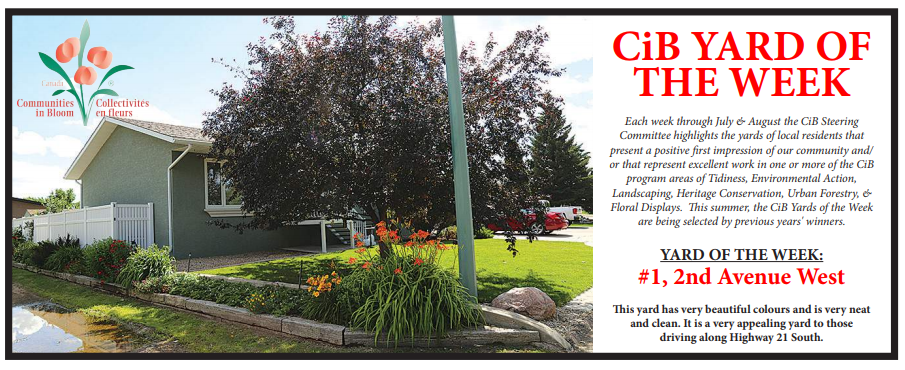 Week 1 – 118 Dixon Avenue
We have chosen the residence of 118 Dixon Avenue. This yard is always tidy and well groomed. The trees of varying sizes and shades of colour make this yard restful and attractive.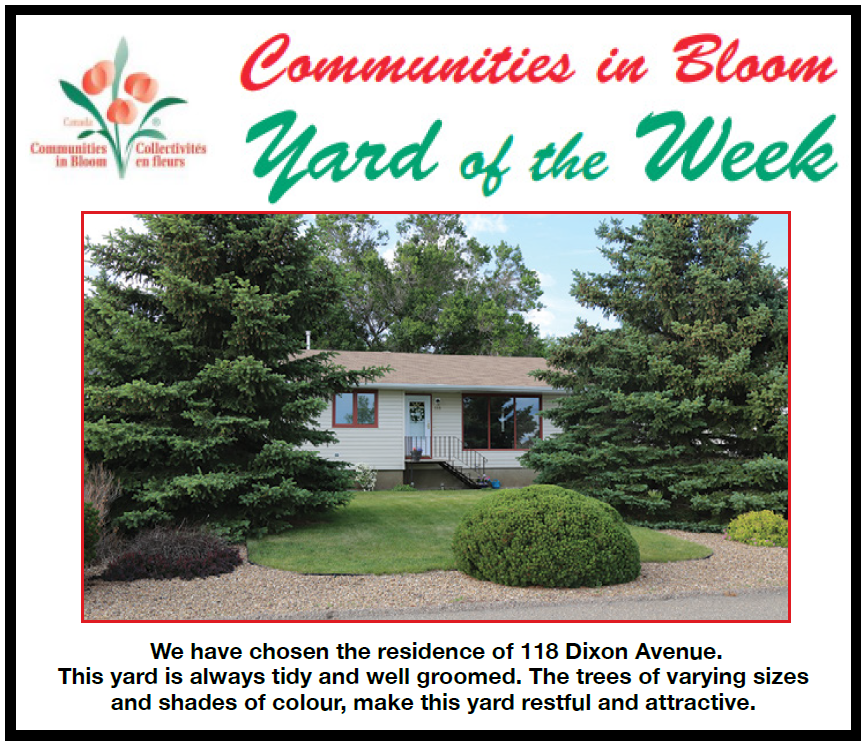 Maple Creek Wins Bronze 5 of 5 Blooms in 2017 National Competition
The Maple Creek Communities in Bloom won 5 blooms - Bronze rating in the 2017 CiB National Competition with special recognition for "Innovative Landfill Site"!! Thank you everyone who worked so hard this past year to make Maple Creek a more appealing place to visit, to live and to do business!!
---
CiB Business of the Month – 2018
July – Kaufman's Saddle Shop
The Maple Creek Post Office staff have decided to nominate Bob's Custom Saddle Shop at 102 Herbert Street for the next Communities in Bloom Award. This business has done a lot of work to the yard by landscaping it so that it has wonderful curb appeal. The building itself has black metal art signs decorating the outside demonstrating various images which portray his business theme.There has also been a rustic style fence built which enhances the entire appearance of the corner lot. Everything in this yard is meticulous and very well maintained. A job well done indicating a lot of pride in his establishment!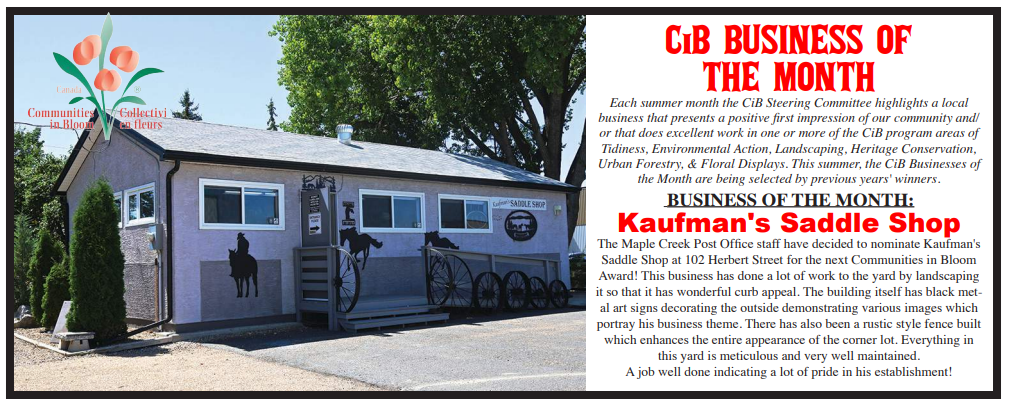 June – Grotto Gardens Country Market
Their place always looks warm and inviting. The grounds are always neat and tidy, nothing out of place. They are always adding to the beautification of the property.

---