Howdy Maple Creek Communities in Bloomers! You can visit this page for all Communities in Bloom updates or
like us on Facebook
.
Maple Creek Wins Bronze 5 of 5 Blooms in 2019 Circle of Excellence
The Maple Creek Communities in Bloom won 5 blooms - Bronze rating in the 2019 CiB Circle of Excellence with Landscape Integration and Outstanding Achievement Award for Community Involvement!! Thank you everyone who worked so hard this past year to make Maple Creek a more appealing place to visit, to live and to do business!!
Read Media Release. Download 2019 Judges Evaluation & Comments.
CiB Yard of the Week – 2019
Week 4 -
Week 3 – 112 Griffin Street
The front yard has seen recent landscaping that is beautifully done. Both the front and the back yeards are kept so neat and clean!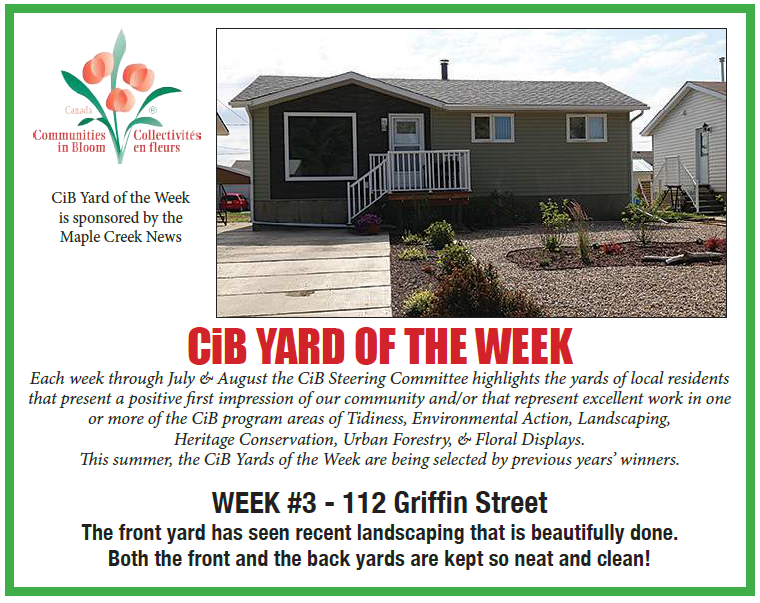 Week 2 – 148 Myers Cresent
House and yard are neat and tidy. The trees on the boulevard are well maintained as the shrubs out front. The highlight is a small bricked area in the front with a tree, bench and bird bath.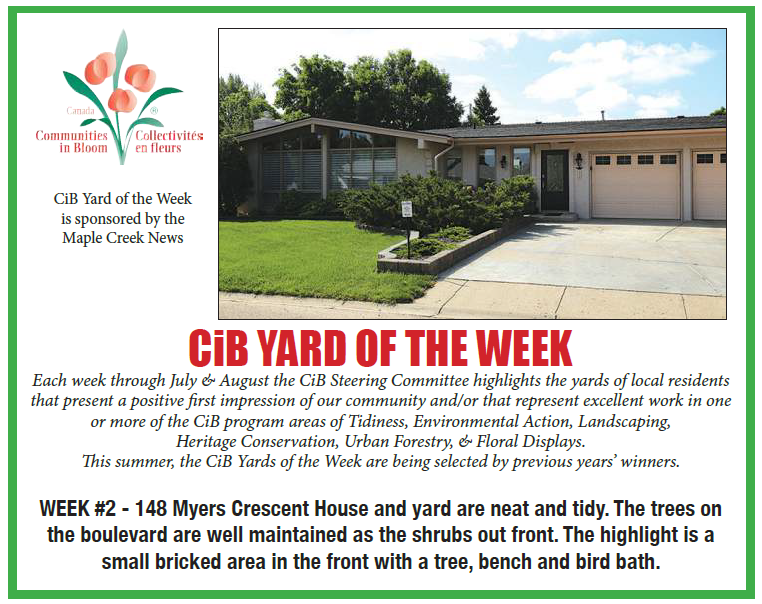 Week 1 – 313 Marsh Street
The perfection of this front yard leaves a lasting impression. The lawn is beautiful, shrubs and hedge neatly trimmed. A glimpse of the cozy, well treed backyard is just as neat. Lovely!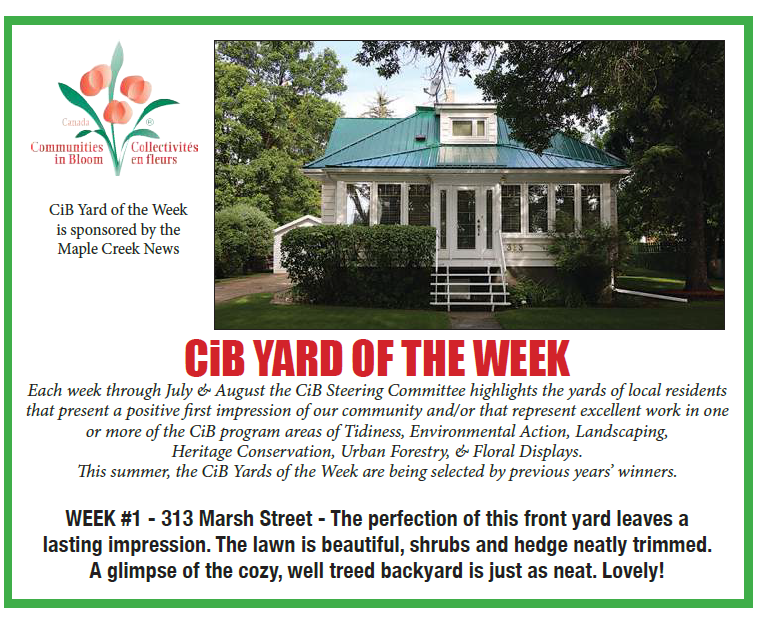 ---
CiB Business of the Month – 2019
September –Cypress Lodge
We have chosen Cypress Lodge as they have everyting looking so neat and tidy and beautiful flowers out front along the siewalk and huge sunflowers.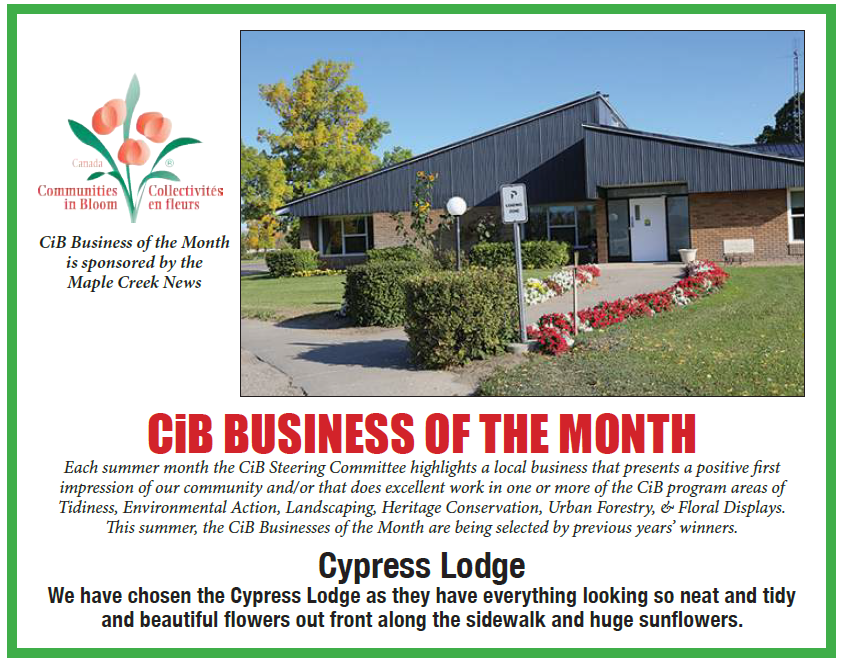 August –Menko's Hair Design
Chosen for their nice appearance, property is alway neat and clean. Beautiful flower planters.
July –

Cypress Credit Union

The Credit Union staff have always worked together as a team to ensure the little area in front of their parking lot is clean and appealing.They have always done a lot for our community. It is a lovely area to sit, a great first impression to this little town. Great job! Thank you for this lovely area.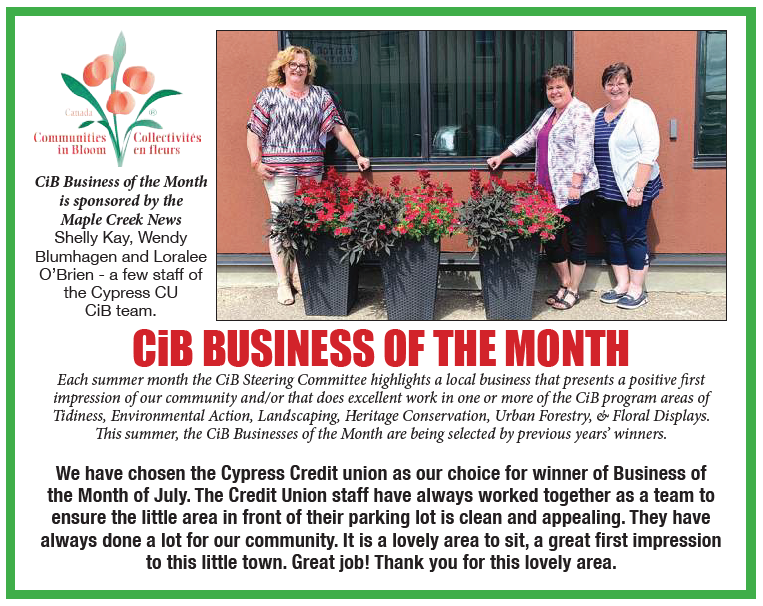 June – Pioneer Co-op Gas Station
We picked the Pioneer Co-op Service Station. There is not a weed in sight on the whole property. There are nice flowers in front of the door. Everything is neat and contained. It is a great start for people coming into town. - Town Office.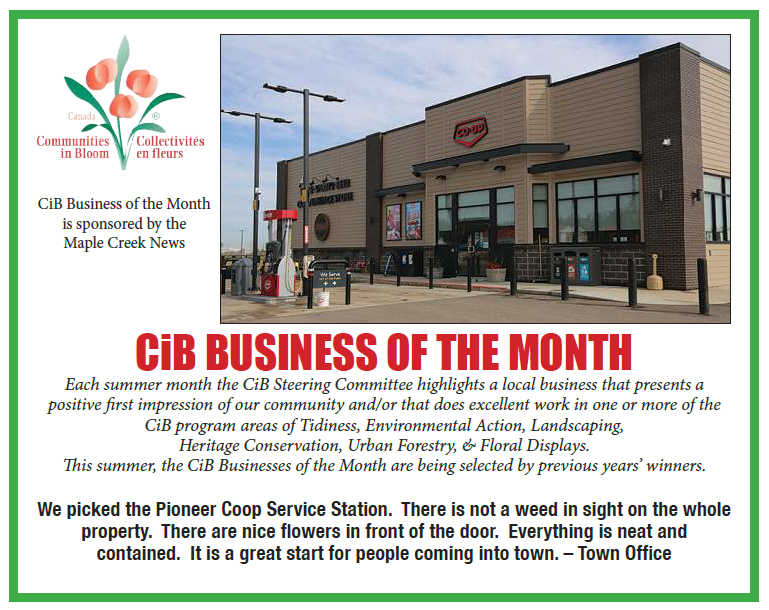 ---