Howdy Maple Creek Communities in Bloomers! You can visit this page for all Communities in Bloom updates or
like us on Facebook
.
CiB Judges' Visit - July 19th-21st
Best Tidy Up! Company's a 'Comin'! The judges will be looking at businesses, residences, churches, schools, and halls. Let's put our best foot foward: Eradicate Weeds, Pick Garbage, Wash Windows, and Sweep Sidewalks.
Hometown Proud!
Maple Creek Wins Bronze 5 of 5 Blooms in 2018 Circle of Excellence
The Maple Creek Communities in Bloom won 5 blooms - Bronze rating in the 2018 CiB Circle of Excellence with special recognition for "Downtown Retrofit & Tourism Promotion"!! Thank you everyone who worked so hard this past year to make Maple Creek a more appealing place to visit, to live and to do business!!
Read Media Release. Download 2018 Judges Evaluation & Comments.
CiB Yard of the Week – 2019
Week 1 – 313 Marsh Street
The perfection of this front yard leaves a lasting impression. The lawn is beautiful, shrubs and hedge neatly trimmed. A glimpse of the cozy, well treed backyard is just as neat. Lovely!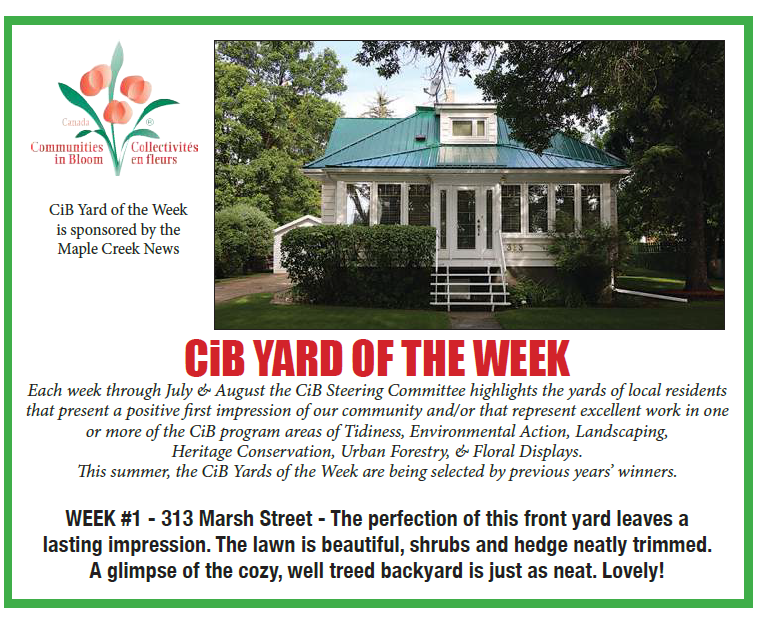 ---
CiB Business of the Month – 2019
June – Pioneer Co-op Gas Station
We picked the Pioneer Co-op Service Station. There is not a weed in sight on the whole property. There are nice flowers in front of the door. Everything is neat and contained. It is a great start for people coming into town. - Town Office.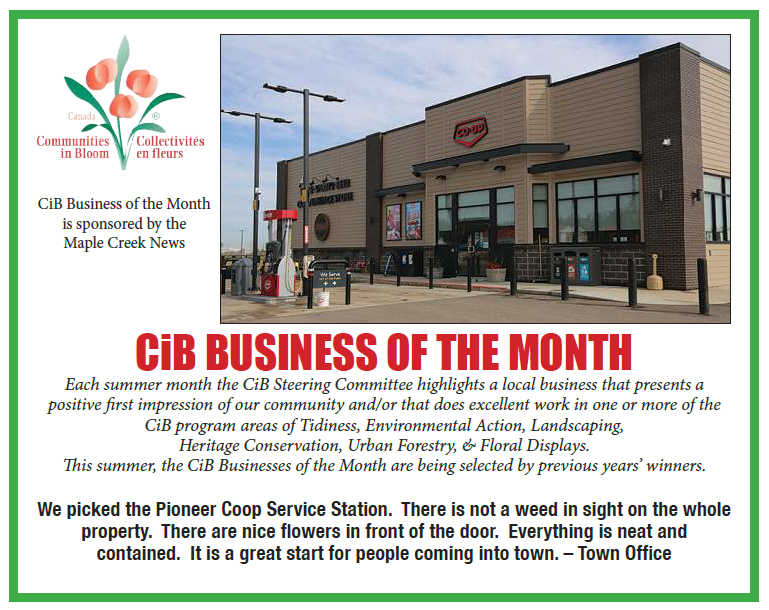 ---