Welcome To Maple Creek
Taste of Maple Creek:
Advance tickets available at the Visitor Centre (114 Jasper Street) until 6PM on August 16, 2019. Ticket booths open at 11:30AM and are located either end of the street festival. The food booths will operate from NOON-2:30.
Street Concert is from 12:30-3:00pm
Artisan's Market is from 11:00-4:00pm
For more information visit here.
---
---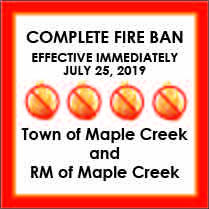 POOL - PUBLIC ANNOUNCEMENT July 16 2019
Due to unforeseen circumstances the Pool will NOT open this season. The pump needs to operate 24 hours for turnovers, flow rates, and balancing chemicals to meet health codes. At this time, due to multiple leaks, the pump cannot maintain operation for a 24 hours period. Unfortunately, with the short season, time is running out to continue exploration procedures to find the source of the leaks. At this time, Council has accepted the recommendation of the Pool Supervisor, Public Works Staff, and plumbers to close the Pool for the season.
Pool Update – July 3rd, 2019
After running several tests to locate the leak at the Pool, the Town of Maple Creek has decided to jackhammer a portion of the pool's deck to expose lines. Once the lines are exposed we will access them and proceed as needed. Stay tuned. Thank you for your patience
June 25, 2019 - The Maple Creek Swimming Pool has a major leak and is losing 8000 gallons per day. We had the area checked with a remote camera through the lines but no leaks were found. The first set of scheduled lessons have been postponed and those affected have been contacted with alternate dates. We will continue to investigate and determine the location of the leak. A decision has not been made by Mayor McKenzie and the Councillors of the Town of Maple Creek to close the pool.
Thank you for your patience and understanding as we work towards a solution.
By-Election 2019
Town of Maple Creek Wastewater Treatment Grant Announced - March 26, 2019
Community Events
Tai Chi

Wednesday August 21, 2019 - 7:00 pm, Senior Centre

Farmer's Market

Friday August 23, 2019 - 8:45 am to 12 noon, Land of Living Skies Park

Tai Chi

Wednesday August 28, 2019 - 7:00 pm, Senior Centre

Toonie Breakfast

Thursday August 29, 2019 - 8:00 - 9:15 am, Anglican Parish Hall

Farmer's Market

Friday August 30, 2019 - 8:45 am to 12 noon, Land of Living Skies Park

Tai Chi

Wednesday September 4, 2019 - 7:00 pm, Senior Centre